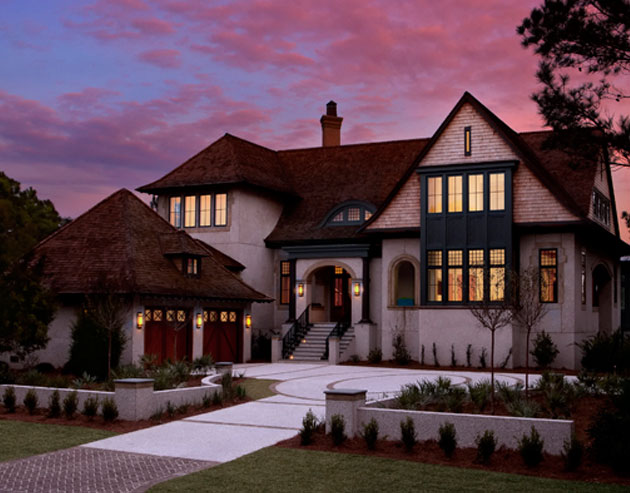 Builder: Buffington Homes
From Surgeon To Residential Builder
The road to building high-end residential homes does not typically begin in a doctor's office, unless you are Dan Buffington. Ironically, that was precisely the route Buffington took on his way to a construction career in South Carolina. For the first twenty years of his professional life, Buffington followed his family tradition and practiced medicine. As he explained, "medicine is simply what my family does; my dad first, then I followed and finally, my two brothers, who are still in practice today."
Read More...
Cozy Country Cottage - The Boathouse
BESIDES THE SHORES OF LAKE SHARON on rural Johns Island, South Carolina, builder Steve Koenig, owner of Steven J. Koenig Construction Company, has created a spectacular guest cottage aptly named "The Boathouse." Koenig's plan when he began to develop this 900-acre retreat at Briar's Creek was to take advantage of an array of indigenous wildlife that would make Noah proud. The Boat...
Read More...
Carolina Architects: Finding The Right Architect
You probably have a pretty good idea of what you want your dream house to look like. The right architect has the education, training and experience to work with you to turn your vision of the perfect home into reality. An architect can save you money by finding innovative ways to reduce building costs, by building your house with an eye on energy efficiency and by considering resale value when designing your home.
An architect can save you time and trouble by finding the most qualified construction contractors and by representing your interests at the work site, making certain that the home is being built according to plan. ...
Read More...
REALTOR DESIGNATION: ACCREDITED LUXURY HOME SPECIALIST
To Buy Or Sell A Luxury Home in North Carolina or South Caro lina, you need a real estate agent with the education and experience to guide you through what could be a complicated process. The Lux ury Home Council, a national organization made up of an elite group of real estate profes sionals, offers courses that lead to the Accredited Luxury Home Specialist designation. What exactly do the letters ALHS...Read More...