<< Back
|
Eye of the Tiger - Tiger Woods Turns to Design
THE CLIFFS-A COLLECTION of soon-to-be eight master-planned communities tucked seamlessly into the placid Blue Ridge Mountains of North Carolina and South Carolina, amid the ageless beauty of seemingly endless acres of national forests and state parks and near a city whose residents enjoy a quality of life unmatched almost anywhere in the United States-is already about as close to heaven as it gets for avid golfers.
As the 2008 Masters Tournament approached, just down the road in Augusta, Georgia, Cliffs property owners already had the option of playing five magnificent courses created by some of the greatest names in golf, including Jack Nicklaus and Tom Fazio, and three additional courses were under construction or in the planning stages.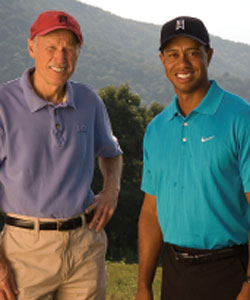 How in this world does it get any better for those who love the temperate climate and the unspoiled vista of the Carolina mountains and relish the prospect of playing a different course every day of the week on innovative layouts bounded only by the vision and imagination of some of the sport-s most revered architects?
You could throw a Tiger into the mix.
Tiger Woods, certainly the most talented golfer ever to play the game and possibly the most recognizable person on the planet, announced in August 2007 that he would design and build his first American golf course at High Carolina, the eighth community at The Cliffs, which stretches along a corridor that engulfs Asheville, North Carolina, and Greenville, South Carolina.
"We couldn-t be more excited to have him working with our team."
"We feel super about it. It-s a great relationship," Scott Beville, president of The Cliffs Communities, Inc., comments. "There-s no question about Tiger-s attention to detail as a golfer, and he-s taking that same level and applying it to the design business. He-s been very involved. We couldn-t be more excited to have him working with our team.
"Woods, who also plans to play a role in establishing the master plan for the High Carolina community, TIGER is already developing his first golf course, nearly 300 homes, a hotel, a golf academy and a retail center in Dubai in the United Arab Emirates. In his relatively new career as a golf course designer, he says he will favor quality over quantity.
"My goal is to design a handful of unique courses around the world," he says. "The Cliffs is a perfect fit for my first American design. Seeing what the world-s best designers have created is inspiring, and I-m looking forward to adding my own style.
"When I first visited High Carolina, I loved the site and the spectacular views of the Asheville area and the Blue Ridge Mountains," he adds. "When I got to the top of the mountain and looked across those meadows, I knew this would be the site of my first American design."
Woods, who launched Tiger Woods Design in 2005, after dominating the PGA tour for almost a decade, says he wanted to learn as much as possible about what makes a great course before expanding his role from taming challenging golf courses to building them.
"I-ve spent a lot of time talking with experts in this field and gathering as much information as possible about what a great course should be," he says. "Friends like Jack Nicklaus and Tom Fazio have been a tremendous help by sharing their support and advice. I hope I can bring as much to this industry as they have over the years."
Woods is well aware of the huge gap in golfing skill between he and his fellow professionals and people who earn their living in other ways and simply enjoy playing the game for fun and exercise. He plans to design his golf courses accordingly.
"It-s our vision to cater to all skill levels and design a course people want to play again and again," says Byron Bell, president of Tiger Woods Design. "We want to ensure that the design is suitable and fun for the casual golfer but can serve as a challenge to a professional as well."
Preliminary work on the course at High Carolina was underway in the spring of 2008, and, according to Beville, the course is expected to open around the middle of 2010. Regardless of how Woods molds the mountain scenery into a top-flight layout, motorized golf carts won-t be a staple at High Carolina.
"Walking is integral to golf, but it will be unique to have a walking course at elevations of up to 4,000 feet," Woods comments. "This golf course will be different in the sense that once you get up there, you won-t hear traffic. You won-t hear anything else but the birds and the trees and a few streams. It-s getting back to nature and how golf was designed to be played.
"One of the most interesting aspects of the course is that even though it-s at 4,000 feet, there-s only a couple hundred feet of elevation change," Beville adds. "Walking a course at 4,000 feet is not an everyday experience. And the natural beauty and location will make this course something unique to the entire region."
And an incredible course it will be if Woods- designing talents match those of his playing skills. While growing up in Cypress, California, in the Los Angeles area, he was featured in Golf Digest at the age of 5. He enjoyed a wildly successful amateur career and
"... I knew this would be the site of my first American design."
won the NCAA golf championship while at Stanford University.
Born Eldrick Woods, Tiger was given the name by which the world knows him by his father, Earl, after a Vietnamese soldier named Tiger the elder Woods met during the Vietnam conflict.
Tiger turned pro in the summer of 1996 and started turning his talent into major tournament victories the following spring. At the age of 21, he captured his first of four Masters titles, scorching the rest of the field at Augusta with a record-breaking 270. He-s one of only three back-to-back Masters winners, along with Nicklaus and Nick Faldo, and he-s also come out on top in three British Opens, two U.S. Opens and four PGA Championships. He was the youngest and one of only five golfers to claim all four parts of golf-s hallowed Grand Slam, and, when he won his second Masters in 2001, he was the first golfer ever to hold all four titles at the same time.
In fewer than a dozen years on the PGA tour, Woods has won 64 tournaments, tied with the immortal Ben Hogan and trailing only golf legends Sam Snead at 82 and Nicklaus at 73. He was the PGA Player of the Year in 1997 and, except for 2004, claimed that honor every year from 1999 to 2007.
The Cliffs was founded in 1991 by Jim Anthony, who built his real estate development business in his spare time. At the age of 40, he decided to follow his dream of becoming a full-time developer. He still lives in his hometown of Pickens, South Carolina, and he still believes in giving back to the community. He helped The Cliffs establish the Carolina Legacy Trust, a philanthropic organization that benefits groups including the American Patriots Scholarship Fund, which provides educational resources for the children of fallen soldiers, as well as Zest Quest, a nonprofit children-s health initiative.
Anthony-s dedication to wellness and children through his foundations played a key role in Woods- decision to build his first American golf course at High Carolina. At a press conference held to announce his involvement with The Cliffs, Woods commented: "I-ve been offered many times to design golf courses and never did because I never felt comfortable with the partnership. But after meeting Jim, it was an instant yes. He is the sole reason I-m doing this. He-s just a great person in what he-s done for all of his communities and for the example he sets. That-s the reason I-m here."
To be continued in the next issue of Carolina Homes & Interiors.
Would you like this content on your website or do you have any questions about this article? If so, contact publisher@mediaservices1.com.