<< Back
|
Eye of the Tiger: The Cliffs Communities, Greenville, SC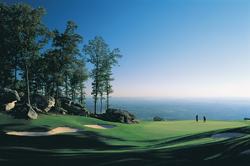 THE CLIFFS WAS FOUNDED IN 1991 by Jim Anthony, who built his real estate development business in his spare time. At the age of 40, he decided to follow his dream of becoming a full-time developer. He still lives in his hometown of Pickens, South Carolina, and he still believes in giving back to the community. He helped The Cliffs establish the Carolina Legacy Trust, a philanthropic organization that benefits groups including the American Patriots Scholarship Fund, which provides educational resources for the children of fallen soldiers, as well as Zest Quest, a nonprofit children-s health initiative.
Anthony-s dedication to wellness and children through his foundations played a key role in Woods- decision to build his first American golf course at High Carolina. At a press conference held to announce his involvement with The Cliffs, Woods commented: "I-ve been offered many times to design golf courses and never did because I never felt comfortable with the partnership. But after meeting Jim, it was an instant yes. He is the sole reason I-m doing this. He-s just a great person in what he-s done for all of his communities and for the example he sets. That-s the reason I-m here. "
Woods will join a team of golf immortals at The Cliffs, taking an already impressive lineup to an even higher level. The Cliffs at Glassy, opened for play in 1993 and designed by Tom Jackson, was ranked two years later by Golf Digest as the fourth most beautiful course in the nation, trailing only Augusta National, Pebble Beach and Cypress Point.
The Cliffs Valley, designed by Ben Wright, opened in 1995, followed by The Cliffs at Keowee Vineyards, built by Tom Fazio, in 1999. In 2005, golfers began challenging The Cliffs at Walnut Cove, a Jack Nicklaus creation. The Golden Bear-s second Cliffs course, Keowee Falls, opened in 2007.
As preliminary work got underway on High Carolina, two more Cliffs courses were nearing completion: Keowee Springs, another Fazio masterpiece, which was set to open in the summer of 2008, and Mountain Park, by golfing-legend-turned-designer Gary Player.
Golf is, of course, a critical aspect of The Cliffs and one of the main reasons people are buying homes in its eight communities. By early 2008, its list of members included owners from 46 states and more than 10 countries. But the Cliffs, which stretches from High Carolina, east of Asheville, to Keowee, west of Greenville, is about more than just fairways, greens, sand traps and water hazards. High Carolina, its newest community, will be "a very special place," according to Scott Beville, president of the Cliffs Communities, Inc.
"It-s 3,000 acres of mountain meadow at 4,000 feet," he explains. "The golf course will be spectacular. The views from every hole will simply take your breath away. And the front gates are only 10 minutes from downtown Asheville.
"Residents of each of the eight communities have access to a wide array of activities and amenities that have little to do with golf, including a fully-equipped equestrian center featuring stables, trail riding and Western and English riding instruction; private marinas with wet and dry slips and storage facilities; and an intercommunity water taxi that will connect each of the marinas.
For people who place a premium on health and wellness, the Keowee Springs Lodge and Spa offers a 53,000-square-foot complex, complete with experienced physicians, as well as an extensive children-s area. The Cliffs houses an additional 27,000 square feet of state-of-the-art wellness facilities, including a golf conditioning center, a water therapy pool, fitness and group exercise rooms, indoor and outdoor pools and saunas, steam rooms, spa treatment rooms, juice and nutrition bars, volleyball, basketball and tennis courts and a children-s play area.
For those who prefer to get their exercise outside and on their own, more than 30 miles of trails have been built for walking, hiking and biking, along with 1,300 acres of parks, green spaces and conservancy areas.
There-s also a mountaintop chapel for weddings and other services and private helicopter pads. And, for homeowners who don-t spend the entire year in the Carolina mountains, Cliffs members have access to an array of international properties ranging from the marine preserves off the coast of British Columbia to the shoreline of Patagonia, Chile, and the beaches of the private island of Cornish Cay in the Bahamas.
And nearby, just west of The Cliffs at High Carolina, is historic Asheville, a city known worldwide for its cultural offerings and outdoor activities. Asheville has been cited as one of the "Top 20 Places to Live in the World" by Barron-s; as one of the "Top 10 Places to Buy a Second Home" by MSN Money; as one of the "Best Five Places to Retire" by Money magazine; and as the No. 1 Adventure Town in America" by National Geographic Adventure.
Would you like this content on your website or do you have any questions about this article? If so, contact publisher@mediaservices1.com.